We are happy to share in these pages key data and figures about the current and upcoming French campaigns. Have a look at this report to prepare your purchasing requirements of essential oils, hydrosols, dried herbs and do not hesitate to contact us for any inquiry.
Editorial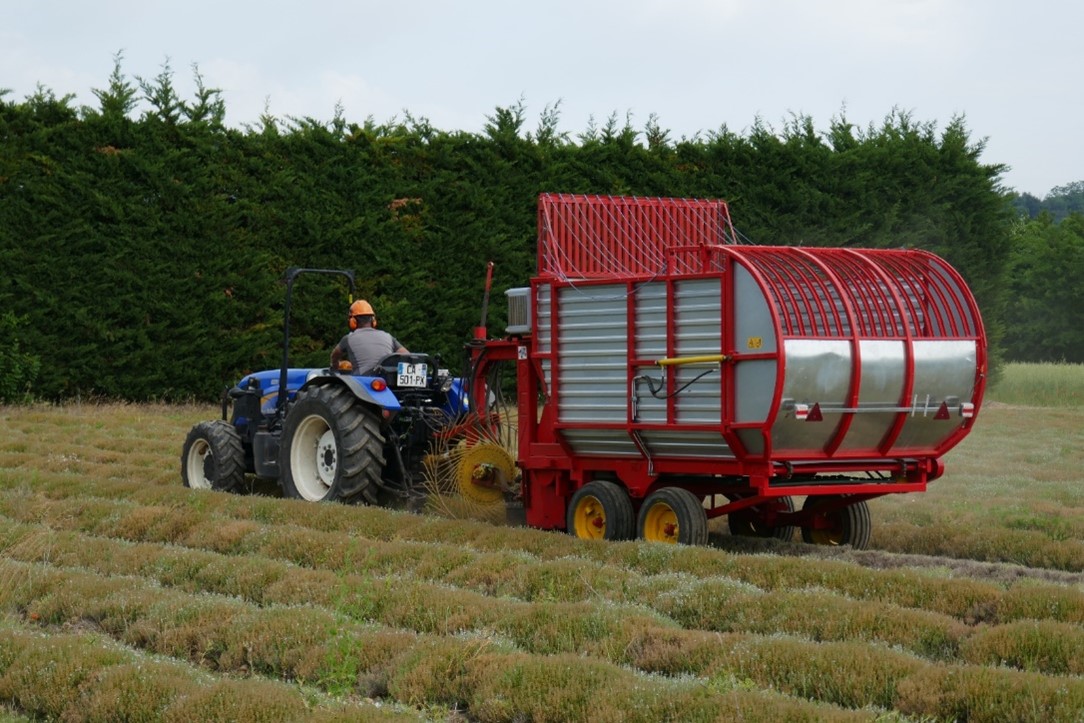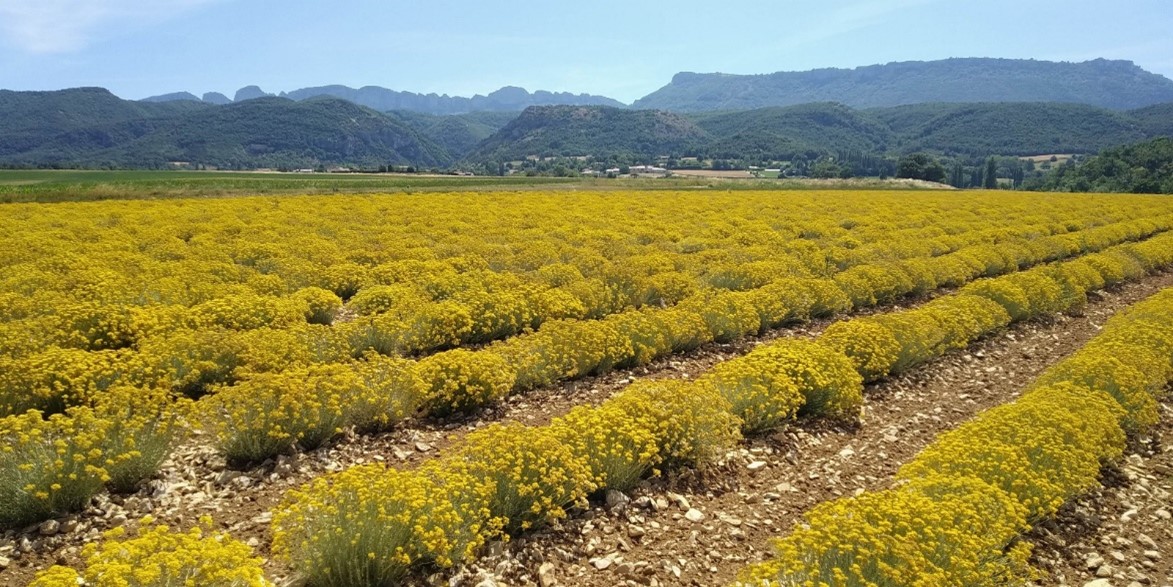 "If the sanitary crisis has faded a little at the beginning of this year, it is to give way to the Ukrainian crisis and its human and economic consequences. We are now in a context of permanent crisis that leads us to adapt permanently.
Production costs of aromatic ingredients are heavily impacted by their high energy and logistics intensity: Energy, transport, packaging and labor are the costs that contribute the most in the production structure.
On the other hand, final consumers are affected by high inflation, which leads them to make choices that modify their consumption habits.
We must therefore work with our customers and producers to devise new solutions that will enable all of us to contain the effects of the current economic situation on our products, at least in the short term.
Our approach of business, formalized within our recent CSR charter, guides us towards technical, organizational and economic compromises with our customers and producers in a spirit of solidarity and long-term thinking.
We are happy to share with you this new market report.
Enjoy your reading of our purchasing campaigns!"
Jean-Pascal ABDELLI, Managing director of Elixens France
General background on aromatic plants
Weather analysis
The weather is one of our main concerns because it has a direct impact on the harvests.
We give you our feedback from the last few months and we share insights on future forecasts within our production area (South-Eastern France).
First half of 2022
A rather cold winter
After an exceptionally rainy 2021, winter 2022 was noticeably cold. We had early spring frosts down to -5°C in the countryside as well as late snowfalls in the end of March in the plains which didn't affect our crops.
A dry spring
The second half of spring was exceptionally dry with a heat wave and temperatures over 32°C in May. For plants that are harvested before lavender (thyme, helichrysum, lemon balm...) yields were very good.
Consequences of droughts
On the filtering and stony plots, we noticed a scald of lavender that had to be harvested in advance with very disappointing yields. Heavy rains between 40 to 60 mm arrived thereafter, unfortunately too late towards mid-June but they were beneficial for the harvests to come such as Roman chamomile, lavandin etc.
Lavandin market
An unstoppable growth in 2021 !
As expected, production surfaces increased again in 2021. Production was well above consumption. More than 500 tons were added to the stocks already swollen by the year 2020.
In this first half of 2022, lavandin has managed to achieve the feat, in an intense inflationary context, of seeing prices fall further.
We foresee for the first time in several years a reversal in the dynamics of the plot in Lavandins under the following combined effects:
Increase in fertilizer prices, distillation costs and transport costs are very noticeable.
The renewed attractiveness of cereals in a context of dependence of the country on imports from Eastern Europe.
The difficulty to fight against some pests since the ban on treatments.
The growth of lavandin is expected to slow down in 2022 and the cultivated areas should remain stable or even decrease.
Organic agriculture shows resilience and fair trade is growing more and more
Good news! Fair trade is still growing in 2021 in France.
The market weighted more than 2 billion € in sales in 2021, increasing by 11%, with more than 700 million € just for the French market. Moreover, sales in France are growing strongly, multiplied by 10 in 7 years!
95% of fair trade sales are food products (including 4% of tea and herbal teas) and 3% in cosmetics.
88% of fair trade products are also organic. Since the implementation of the Climate and Resilience law of 2021, the consideration of environmental aspects are included in the legal definition of fair trade.
The Organic food market suffered in 2021. Its decline is related with the contraction of the overall offer of food products. Therefore, organic food has decreased by 1% in the same proportion as conventional food. The organic market share is 6.6% of total consumption.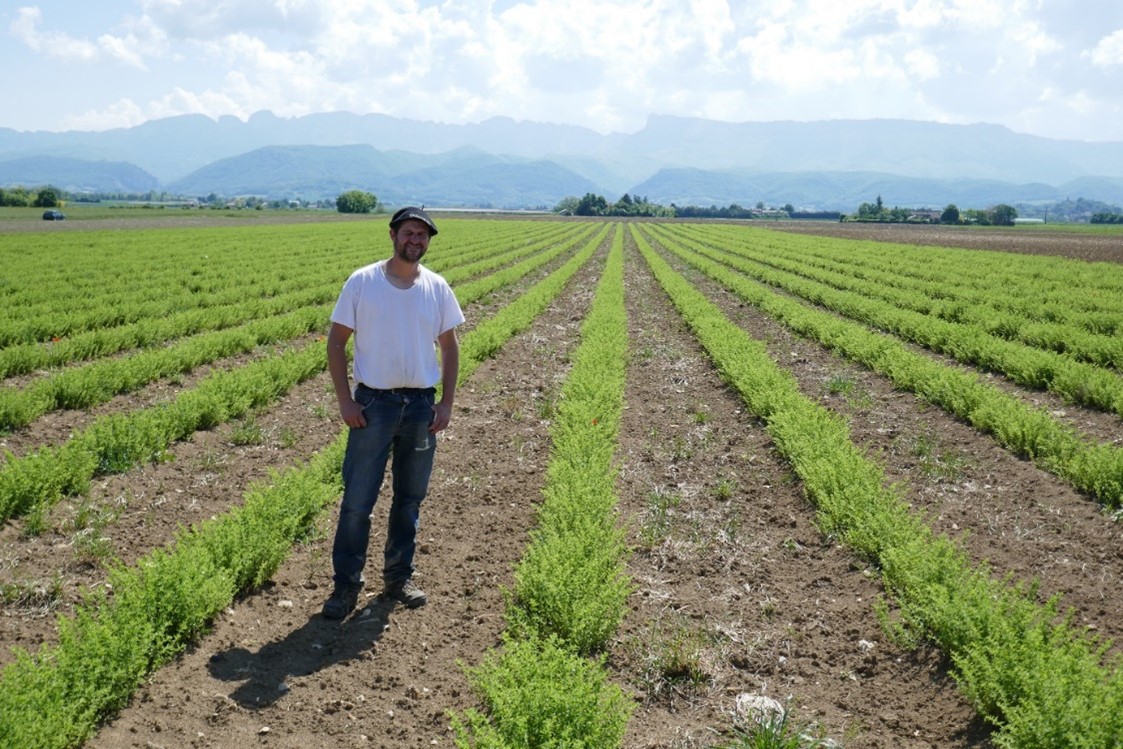 While general and specialized distribution are slightly down, sales through independent shops and direct sales are growing.
Defending organic and fair trade means defending our responsible purchasing power! Let's build together an organic partnership.
Elixens France
Agricultural anticipation
Elixens France is committed to the defense of biodiversity as part of its CSR charter. Working in organic is one of the best ways to preserve and develop it.
A study* based on 66 scientific studies indicates that organic farming preserves biodiversity.
30% more species are found in organic crops with 50% more populations. Birds, insects (including foragers for fragrant plants), soil organisms, and secondary flora in the fields all benefit from these virtuous agricultural practices.
Elixens is working to market more than ¾ of its products as organic or under an environmental label by 2025.
* Bengtsson, J et al. 2005
Dry herbs : alkaloids
Elixens France has set up an action plan to manage the arrival of this new constraint in the production of dry herbs for herbal tea and spice applications.
An analysis of the productions at risk was carried out as well as a risk analysis of the contaminating plants. Training was performed with the producers of the SICA BIO-PLANTES at the end of this winter and field visits before harvesting were carried out.
This type of action allowed a good control of the quality of the plants.
The reinforced weeding work has been taken into account in the 2022 update of plant prices as part of our fair commitment to SICA BIO-PLANTES.
Summer 2022 harvests
We cultivate more than 36 plants species in organic agriculture.
We transform them into essential oils, hydrosols/floral waters, dried herbs and specialties.
We invite you in the coming pages to take a look at some of our current and future ingredients.
The majority of the harvests are of good quality.
Elixens France will only partially pass on the increase of production costs in its pricing policy in order to comply with long term commitments.
Organic sweet mint (Mentha spicata)
Production: dried herbs and, this year, a distillation test for essential oil and hydrosol
State of the crop: good
Harvest/distillation: the 1st cut of sweet mint was made early June.
Availability: under development for essential oil and hydrosol, under commitment contracts for dry herb
Market trend: high demand, our variety is very appreciated.
Organic peppermint (mentha piperita)
Production: essential oil, hydrosol and dried herbs
State of the crop: good
Harvest/distillation: June to September
Availability: on reservation
Market trend: high demand
Organic lemonbalm
Elixens has been cultivating this plant for more than 20 years. It's a regular must-have.
Production: essential oil and hydrosol
State of cultivation: good
Harvest/distillation: June to September, distillation in progress
Availability: good
Market trend: stable
Origanic green oregano
Production: essential oil, hydrosol and dried herbs
State of the crop: very good
Harvest/distillation: June
Availability: on request
Market trend: stable
Organic rosemary
Production: essential oil, hydrosol and dried herbs
State of the crop: good
Harvest/distillation: August
Availability: important
Market trend: stable
Organic savory lemon
Production: essential oil, hydrosol and dried herbs
State of the crop: very good
Harvest/distillation: July
Availability: good
Market trend: high demand, new products
Organic clary sage
Production: essential oil
State of the crop: good
Harvest/distillation: July
Availability: good
Market trend: stabilization of prices on clary sage after a decrease due to overproduction
Organic officinal sage
Production: essential oil, hydrosol and dried herbs (use of the sheets)
State of the crop: good
Harvest/distillation: first harvest in spring, 2nd harvest in autumn depending on demand.
Availability: good
Market trend: stable
Organic verbena
Production: dried herbs and the possibility of floral water on request
State of the crop: good
Harvest/distillation: May to October.
Availability: good, developing culture
Market trend: stable