A new chapter begins: Pierre BATTAIL joins our team as Agronomy Manager and will gradually replace André HYVRIER as he gradually retires.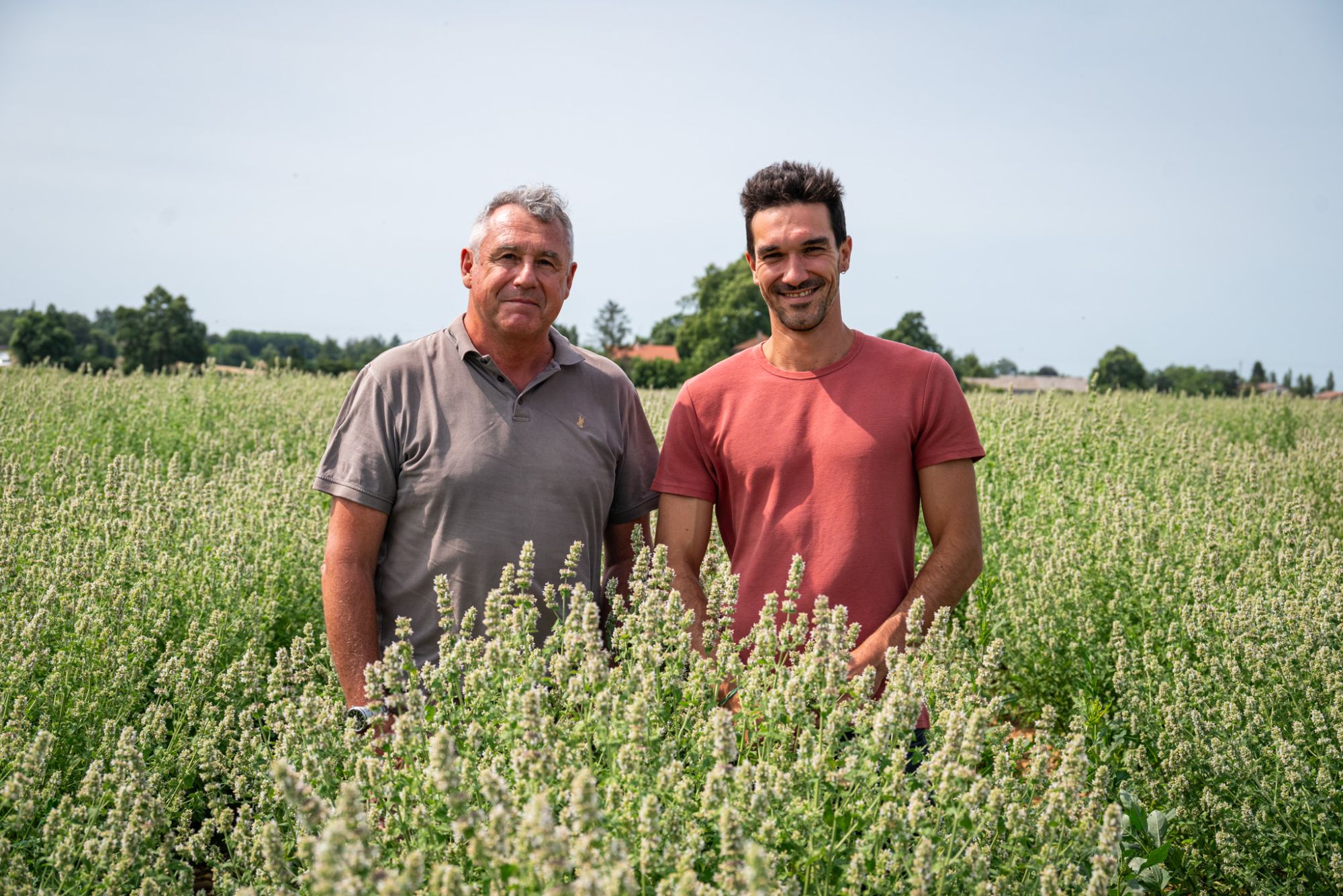 After many years of dedication and valuable contributions as Agronomy Manager, André HYVRIER will gradually retire and will pass the flame on to Pierre BATTAIL who recently joined our team. André has been a key Elixens member, bringing his agronomic expertise and unlimited support to our farmers. His passion for botany and the agricultural world and his dedication, have greatly contributed to the success of our business. Today, we are delighted to announce the arrival of Pierre BATTAIL, who joins our team to support André in this transition and will take over full-time from the end of the year.
A legacy of expertise and dedication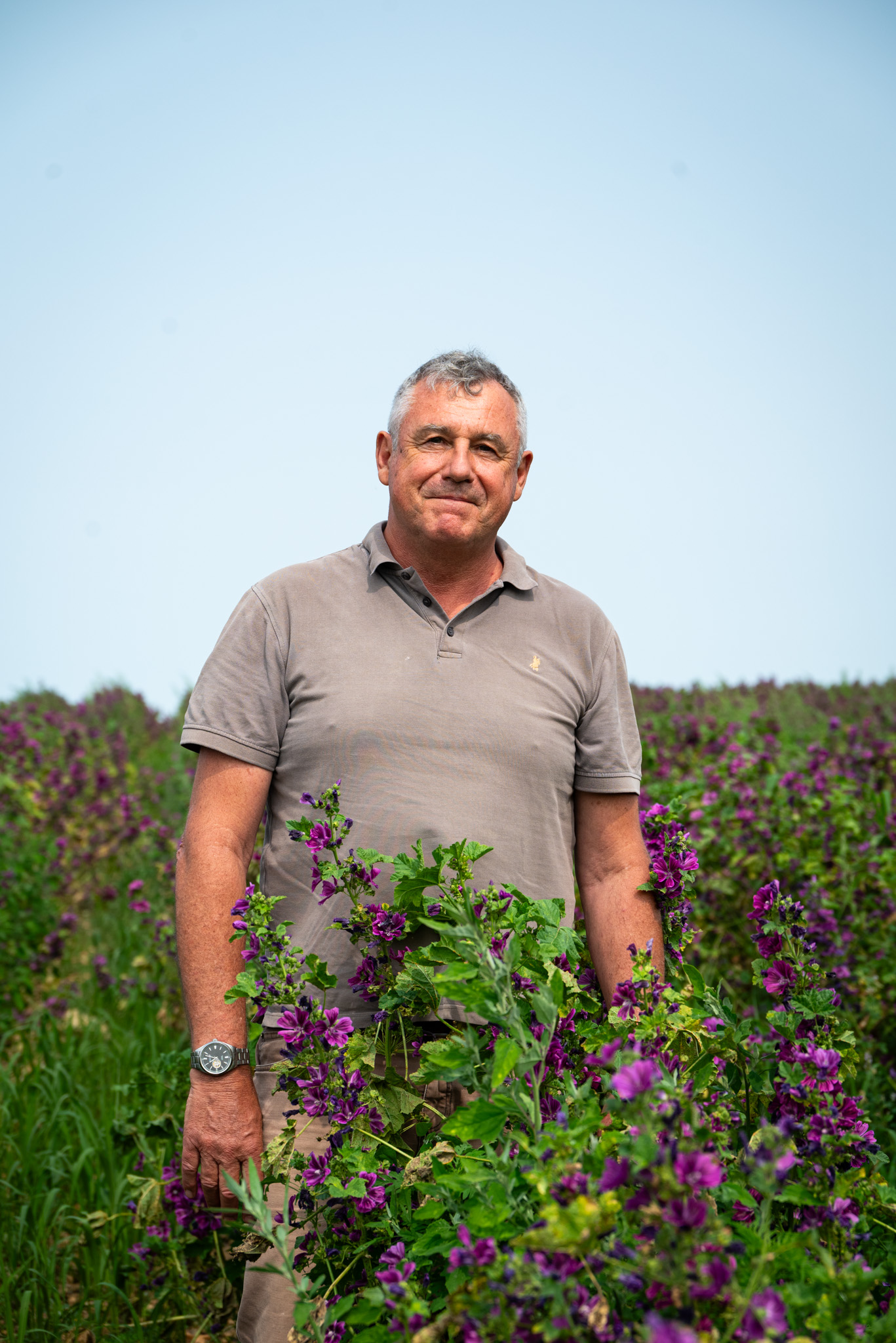 André HYVRIER has left his mark on our team over the years. As Agronomy Manager, he worked tirelessly to support farmers in their practices, thus creating a strong and lasting bond that will continue to flourish. His passion for botany and farming inspired our entire community in the world of organic agriculture, and was a driving force to progress.
In a recent interview, André has gone down memory lane with us and shared his vision on his career and how he sees the future:
What are the highlights of your career, and what have you found most satisfying about your work?
«There have been many, but two of the highlights of my career were the creation of Sanoflore botanical garden, which was a great exercise in shaping landscape and plant research in correlation with our business. Another was the development of a farmer group, SICA Bioplantes, which started out with very limited resources. We had to do a lot of research and testing to reach out more than 40 different cultivated species. What has given me the greatest satisfaction is to have achieved fair trade certification together with farmers and customers, thanks to a long-term and trust-based relationship.»
What main changes have you witnessed inside the organic farming industry from the beginning of your career until today ?
«At the very beginning we couldn't grow large surfaces, only 2 or 3 hectares for one specie, with a lot of manual work. But step by step, thanks to developments in precision mechanics, we were able to grow larger plots. Today, our customers, and above all end consumers, are also much more confident into our products. They also pay much more attention to ingredients, their traceability and their impact on their health and the environment. There have also been more and more laws and regulatory constraints, particularly in food and cosmetics.»
What final advice would you give to young farmers starting out in organic farming?
«If I had to give some advice, first of all you need to do a lot of research before starting out, and above all you need to be well supported. It is Elixens role to provide technical support to farmers, enabling them to choose the aromatic plants that best suit their lands and local specificities and those of our customers. In any case, it is important to be well trained in this highly standardized sector, and to start gradually»
How do you plan to continue contributing to environmental protection in retirement?
«I have learned to farm organic during my career, and I am planning to expand my personal vegetable garden more and more along these lines. I also hope to keep in touch with the world of organic farming and continue to give advices to producers.»
A promising new eye for agricultural challenges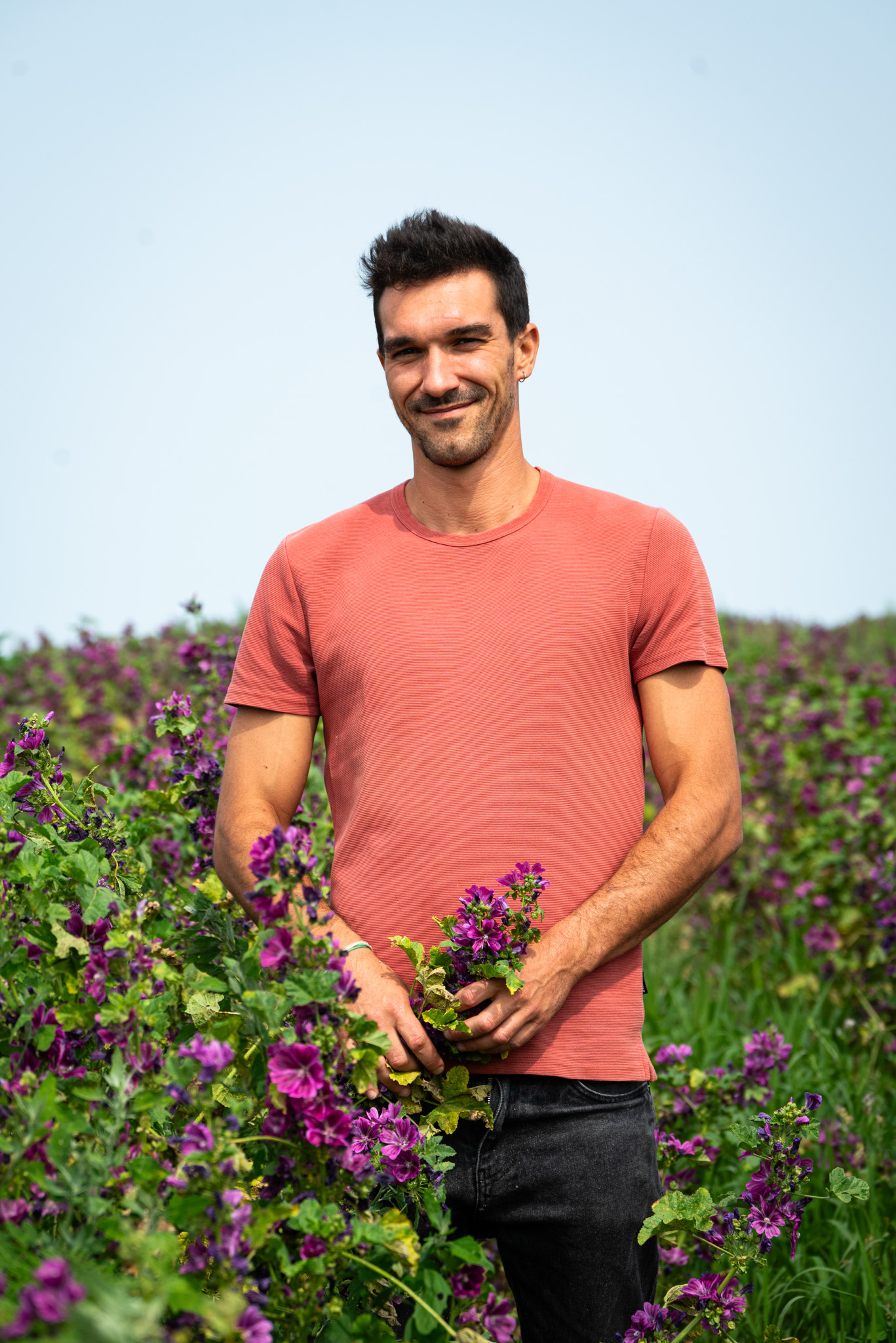 We are delighted to welcome Pierre BATTAIL to our team. With his extensive experience in organic farming, Pierre brings a wide range of expertise that will enable us to meet the challenges facing farmers today. His professional background, which includes working in a 100% organic essential oil distillery, technical consultancy and agronomic experimentation, reflects his commitment to sustainable agriculture.
In a recent interview, Pierre shared his background and experience in organic farming:
What is your background and experience in organic farming?
«My first job was in a 100% organic essential oil distillery in Occitanie before coming to the Drôme. I then worked as a technical advisor to organic and conventional producers of perfume, aromatic and medicinal plants (PPAM) at the Drôme Chamber of Agriculture. I was also in charge of an experimental farm specialized in PPAM in the Baronnies. We were monitoring PPAM selection/conservation trials, trials to adapt farming practices (agroforestry, machinery, biocontrols, etc.) and diversification with new species.»
Why did you choose Elixens France as the next step in your career?
«I chose Elixens France as the next step in my career because of the continuity with my work at the Chamber of Agriculture. Technical support in this diversified sector is fascinating, as are experimentation and agricultural development. What's more, there's a strong relationship of multi-year, reciprocal commitment between the SICA's producers and Elixens. Elixens' Biopartenaire label is in line with my convictions. The diversity of products processed and marketed by Elixens (herbal, HY, HE, extracts) is also very attractive. SICA growers cultivate over 30 different species and varieties, which makes the work very diverse and exciting.»
What do you see as the challenges facing farmers today, and how do you plan to address them with them as Agronomy Manager?
«The major challenges facing farmers include the changing climate, rising production costs and labor shortages. To meet them, I plan to work on several avenues. First of all, we'll be conducting experiments on diversification species, looking for crops suited to the new climatic conditions. Secondly, we want to promote and share farming techniques between SICA members, thus encouraging an exchange of knowledge. Finally, we plan to pool resources such as labor and equipment to optimize costs and facilitate farmers' work.»
The transition from André HYVRIER to Pierre BATTAIL looks promising. While we salute André's exemplary career and invaluable contributions, we warmly welcome Pierre to our team. His experience in organic farming, his passion for sustainable agriculture and his commitment to our farmers make him an invaluable advisor to our farming community.
Together, we are ready to meet the challenges of modern agriculture and continue to work towards a flourishing future for organic and fair trade.