We are happy to share in these pages key data and figures about the current and upcoming French campaigns. Have a look at this report to prepare your purchasing requirements of essential oils, hydrosols, dried herbs and do not hesitate to contact us for any inquiry.
Editorial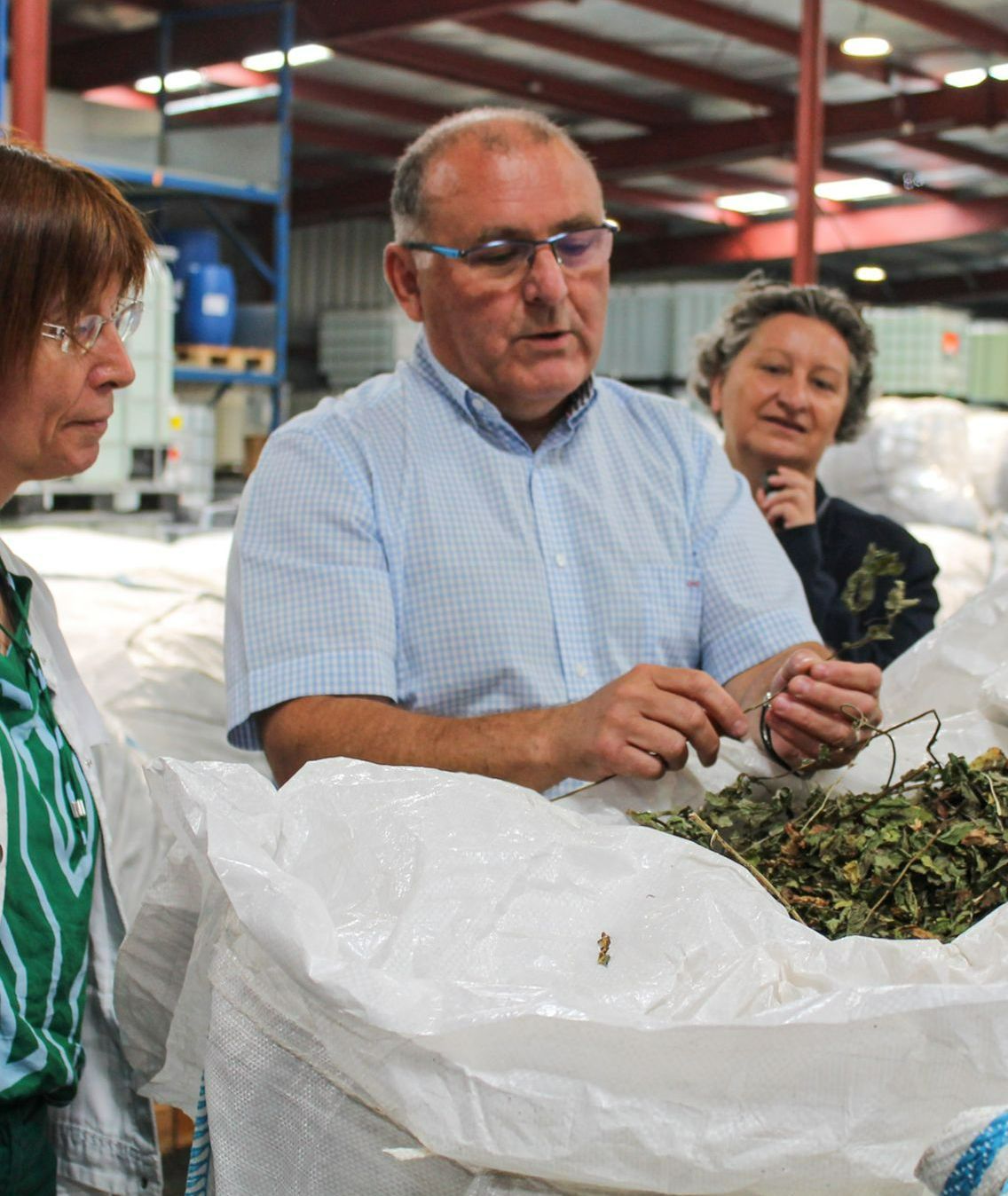 « Our world is becoming increasingly contrasted and surprising. Droughts and fires precede floods and cyclones...
Inflation is squeezing our food budgets, but air traffic has returned to pre-COVID levels...
Our health is a growing concern, but we're rushing to the supermarkets to buy ultra-processed products.
We lack reference points.
Tools are being developed which, even if they are imperfect, will guide consumers in their purchasing decisions and change the practices of operators in our ingredient supply chains: Nutriscore, Ecobeautyscore; Green impact index, blockchain traceability...
We will have to change and integrate environmental and societal components into our practices.
Elixens is preparing for this, as you will see from this new market report.
We hope you will find the latest information useful for your decision-making.
Enjoy your reading of our purchasing campaigns! »
Jean-Pascal ABDELLI, Managing director of Elixens France
General background on aromatic plants
Weather analysis
The weather is one of our main concerns because it has a direct impact on the harvests.
We give you our feedback from the last few months and we share insights on future forecasts within our production area (South-Eastern France).
Dauphiné - Provence: a scorching end to summer followed by sudden rains in September
As in the rest of the country, the month of August was marked by a heatwave lasting over 15 days, with temperatures exceeding 40°C daily and, above all, not dropping below 25°C at night. Under these conditions, the plants we grow can suffer severe heat stress, even when irrigated. However, most of the crops had already been harvested for distillation and were therefore not vulnerable at the time. What's more, agroecological practices (such as permanent, sown plant cover and agroforestry) mean that some growers have soils that are less exposed to these climatic extremes.
In terms of precipitation, September was a generous month, with very mild temperatures, which enabled plants to restart after cutting and to build up reserves for restarting at the end of winter.
As for pests, July and August were marked by heavy attacks by caterpillars, which feed on all aerial parts. At Elixens' partner growers, some lavandin and oregano plants were affected, but the accelerated harvest helped to limit the damage. These pests are adapted to arid climatic conditions, so we expect to see this kind of attack more frequently as the climate warms up. Elixens is working with its partners on various agronomic and organizational strategies to deal with these problems.
All these conditions led to very satisfactory essential oil yields for lavender and lavandin compared with the rest of Provence. Essential oil yields from second cuts of aromatics are also good. Similarly, this autumn's herbal cuttings are voluminous and of good quality, thanks to September's rain and mild weather. Any non-reversible damage caused by the heatwave and by pests will be assessed during the autumn, before crops are renewed.
The 2023 growing year will soon be coming to an end, and we're already preparing for the 2024 planting and sowing season. Don't hesitate to let us know what plants you need from our catalog, or to suggest new species for trial; our teams look forward to hearing from you.
Parfums Provence Ventoux
The August-September period in the Sault and Mont Ventoux region was characterized by a lack of water, apart from a few scattered thunderstorms. Rain is expected to promote vegetative rest and replenish the water tables, which have been severely tested this summer.
The Plateau d'Albion and Valensole sectors were hard hit by the ravages of noctuid moths, brought to the region by a gust of wind from Morocco in July. Apart from these two areas, little damage was observed.
Resulting yields: given the factors described above, the 2023 harvest of Fine Lavender is set to fall sharply. We therefore expect a tight supply of this material. For the region as a whole and for all the essential oils produced, volumes are expected to fall by around 10%, in line with the CIHEF's recent estimate.
Lavandin market
The first (still partial) data shared by the CIHEF provide an initial insight into 2023 acreage trends and the 2023 harvest:
The surface area of lavender and lavandin in production is down by around 10%. The tanker is now in reverse gear. Some 3,000 ha net have disappeared over the period.
Bearing in mind that some growers still cultivated plants ordered from nurserymen last year, the actual uprooting was significantly higher.
The correction in acreage is underway and its main effects will be felt next year. The lack of plant production this year will limit replanting in spring 2024. The current economic situation will probably lead to an increase in grubbing-up, which will no longer be offset by replanting.
Areas in production will therefore shrink drastically in 2024.
Lavender harvests are down by around 9%. Grosso is limiting its decline to around 7%, while the other lavender varieties are down sharply (-38% for Super and -13% for Abrial).
The 2023 harvest and large carryover stocks should nevertheless satisfy market demand.
The Alpes de Haute Provence is the area most affected by the decline in production.
Vaucluse is holding up well, while Drome and the new production zones have continued to develop.
At first glance, lavender data indicate a sharp drop in production of around -30%.
The 2023 harvest and carryover stocks will generally satisfy the market. We invite you to anticipate your requests for population lavenders, for which the market could be tighter.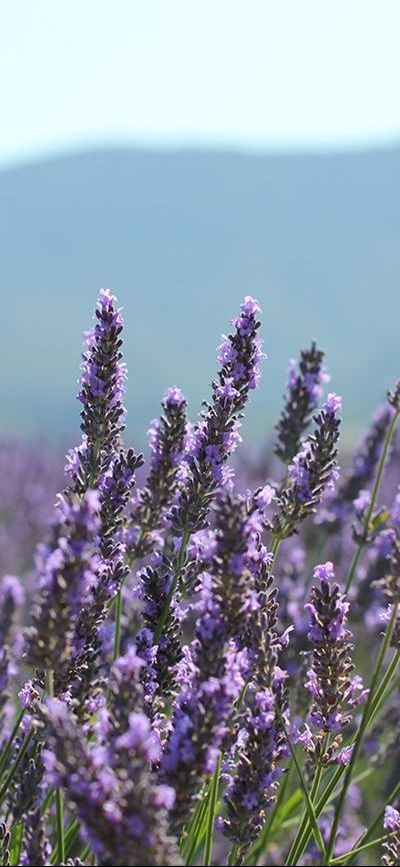 As expected, market prices are at historically low levels. The most fragile structures (nurserymen, growers, cooperatives, marketers) are suffering.
Although our industry is accustomed to cyclical phenomena, we are experiencing an unprecedented crisis due to a combination of unfavorable factors:
High production levels due to increases in production areas in recent years.
A significant drop in demand in all regions of the world.
A sharp rise in production costs (energy, inputs).
At a time when prices should be rising, the surplus market is pushing them well below production costs!
Orange from Brazil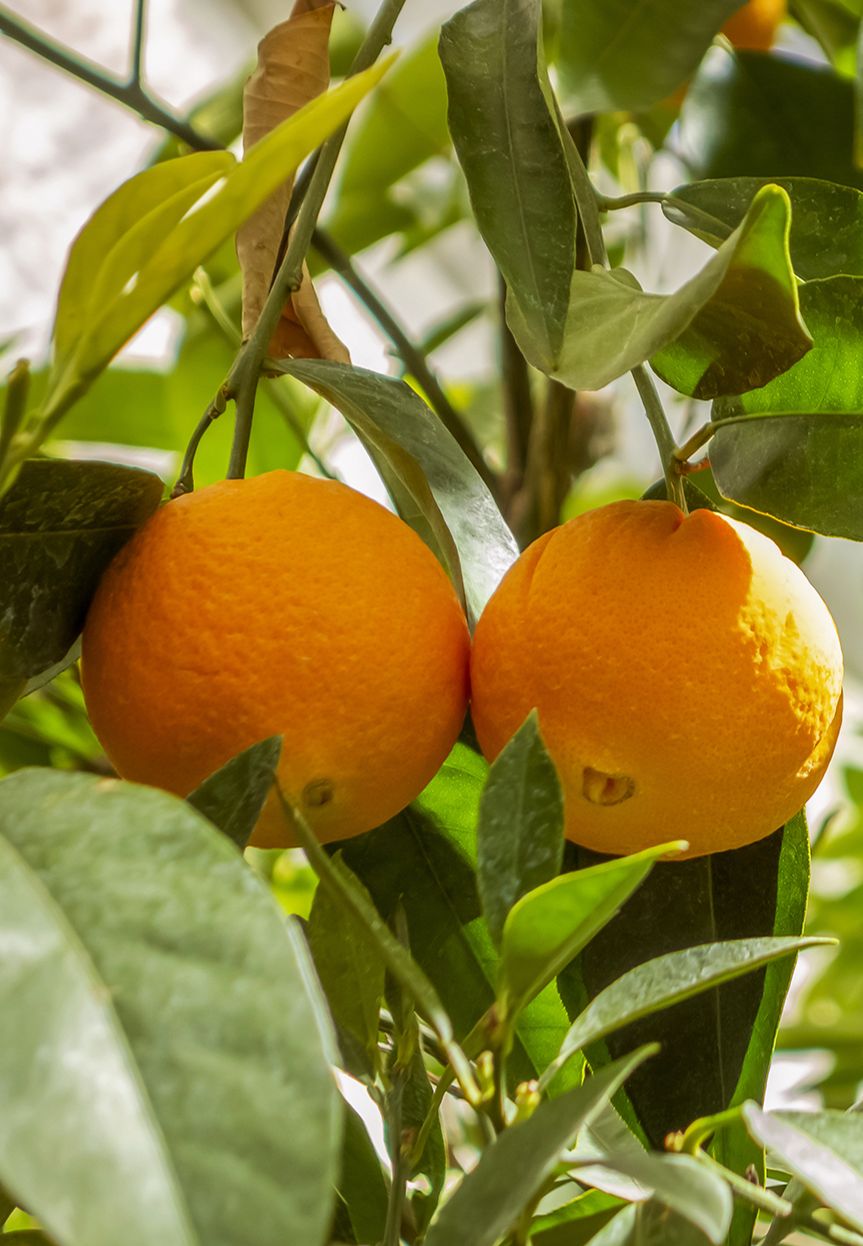 This market has been very tight for several years now, for two main reasons.
There is little fruit available, due to greening (yellow dragon disease). This disease is progressing rapidly and killing trees, which has a major impact on orange production.
The aldehyde content of the oil is generally low. It's the temperature difference between day and night that enables this component to be produced. The sharp changes in temperature we've seen in recent years, from very hot to very cold for several weeks at a time, don't allow aldehyde to be produced. Price is now directly correlated with aldehyde concentration, making the market even more complex.
In this context, we organize ourselves to buy at the best time from our long-standing suppliers, who guarantee us year-round supplies of quality oil. Prices therefore remain very high and firm. We do not expect prices to fall for several years.
For the same reasons, the market for orange terpenes is very tight.
Supply is also lower than demand. In the same way, we have anticipated our purchases to lock in quantities while maintaining a competitive price.
We invite you to get in touch with your sales contact to secure your volumes and your price as soon as possible.
Elixens France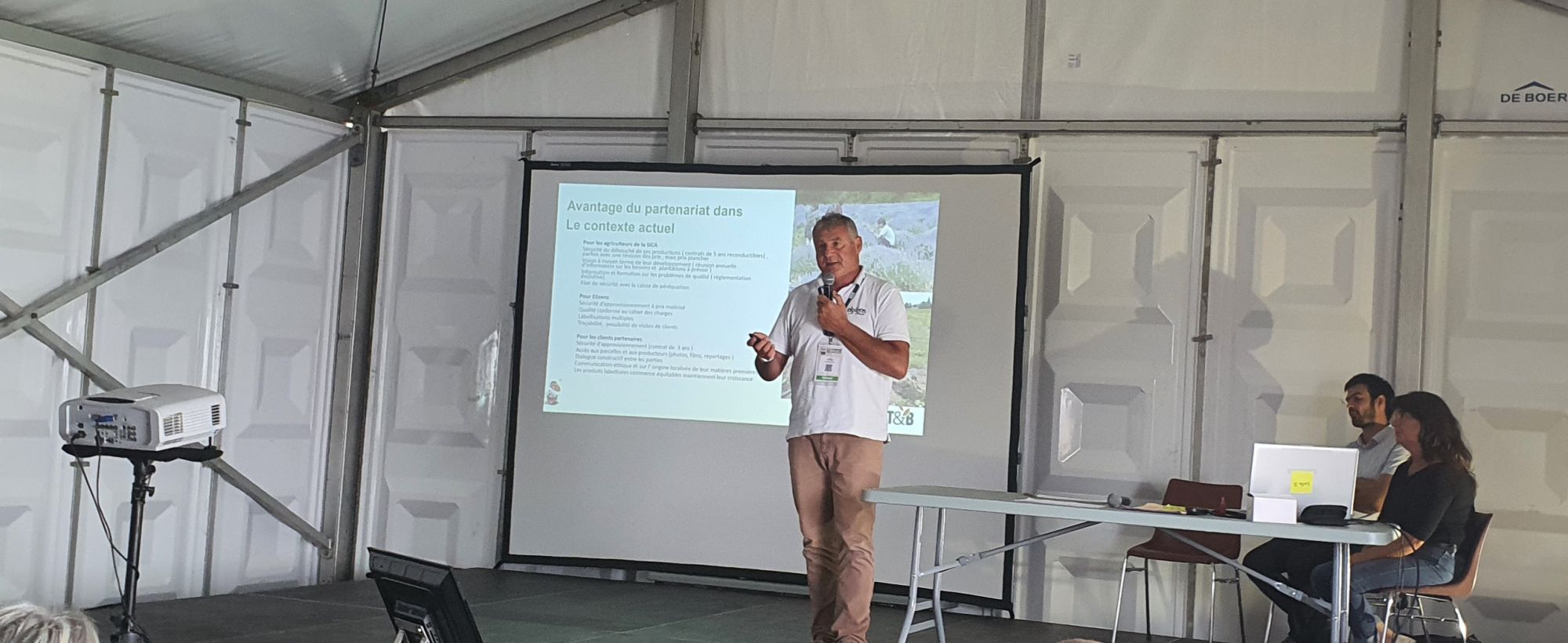 Elixens continued to focus on social and environmental issues:
2022 is the third year of our company's carbon footprint. We insisted on having our methodology, basic data and results audited and validated by an independent third-party expert. During the summer, we obtained an attestation of the reliability of our carbon footprint. This attestation is available here:
Carbon footprint certification by ODDS for Elixens France application/pdf - 110.23 KB
We also wanted to situate our environmental transition action within the climate trajectory defined by the Paris COP. Our current carbon performance and reduction commitments were therefore submitted to SBTi (Science Base Target initiative), a partnership between CDP (Carbone Disclosure Program), United Nations Global Compact, World Resources Institute (WRI) and World Wide Fund for Nature (WWF).
SBTi has validated its compatibility with the most ambitious 1.5°C reduction scenario defined by the Paris Agreement.
To find out more, visit the Science Based Targets Initiative website.
Elixens' sourcing strategy enables it to produce or buy over 90% of its raw materials from partner producers. Our involvement and knowledge of production and agronomic processes has enabled us to draw up life cycle analyses for our main products.
This work enables us to share with our partner customers the information they need to draw up their own carbon footprint and the environmental rating of the ingredients they use. Our partner customers are thus able to refine standard financial approaches to LCA. The compact model used by Elixens France also makes a certain number of emission items, such as primary and secondary transport, negligible in relation to the PEF LCA method. Putting this data into perspective also enables Elixens to activate medium- to long-term action plans with its producers, with a view to optimizing the emission factors of the various sectors.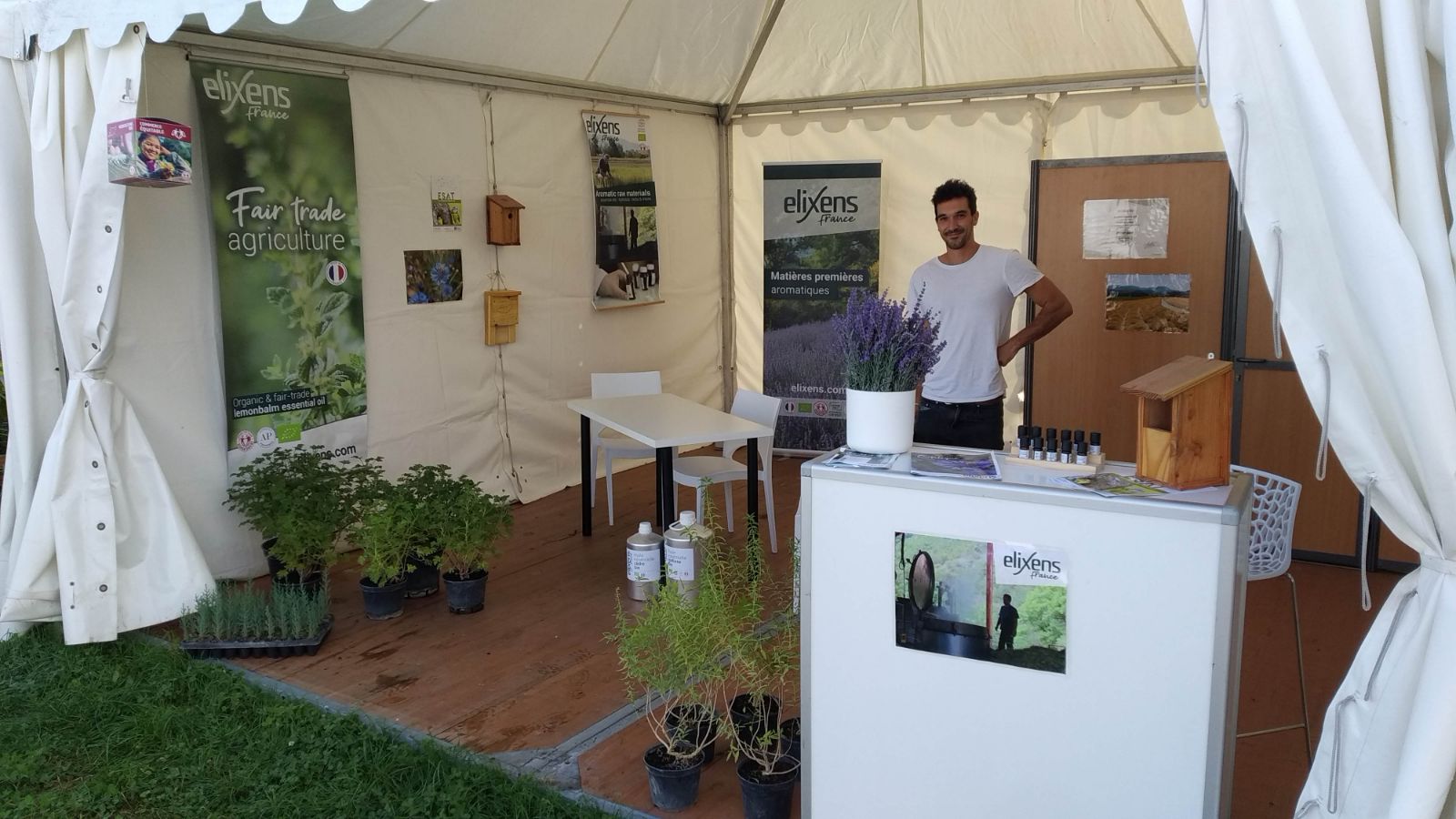 Tech & Bio showcased the latest technological developments in organic practices and equipment.
Elixens France was present in the PPAM pavilion. We had the opportunity to pursue our exchanges with numerous producers, including our partners from SICA BIOPLANTES. Against a backdrop of production overcapacity and unfulfilled contractual commitments by various operators, Elixens was asked to present its organic and fair trade model, which has been in place for many years. Alongside the model of direct marketing in short circuits, it appeared to be protective of producers and in line with long-term trends in the food and cosmetics markets.
Contractualization is a fundamental part of Elixens France's approach. With both its customers and its producers, Elixens seeks to establish as far as possible long-term bilateral relationships, creating an over-the-counter market uncorrelated from speculative market situations.
This approach is hampered by violent, wide-ranging variations. The lavandin market is a sad example of this.
Elixens France is working with its producer partners at SICA BIOPLANTES and PPV to come up with original contractual arrangements that would enable upstream and downstream players in the industry to jointly reduce their exposure to market ups and downs. Measuring the effects of speculative peaks (both upwards and downwards) is making more and more growers and customers sensitive to a sustainable approach to the supply of lavandin.
Elixens has developed a price modeling tool for lavandin, integrating its production cost structure and a number of economic assumptions. It can be used to simulate price trends on the basis of historical data and compare them with actual prices.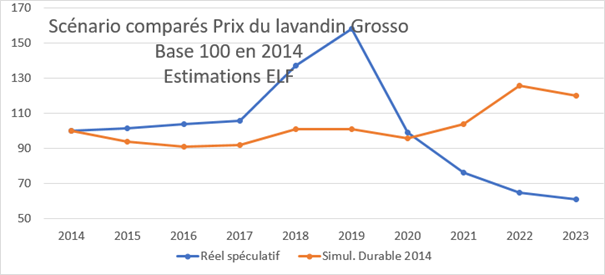 Its use over the 2014-2023 period clearly reflects the scissor effect described above. It also enables us to understand comparative trends over long periods, which should inspire us.
The purpose of this tool is to discuss with our customers the assumptions we could agree on to define a pricing method within the framework of a multi-year contractual commitment, with the aim of protecting ourselves from the next speculative upturn in lavender. Let's talk about it together!
Regulatory progress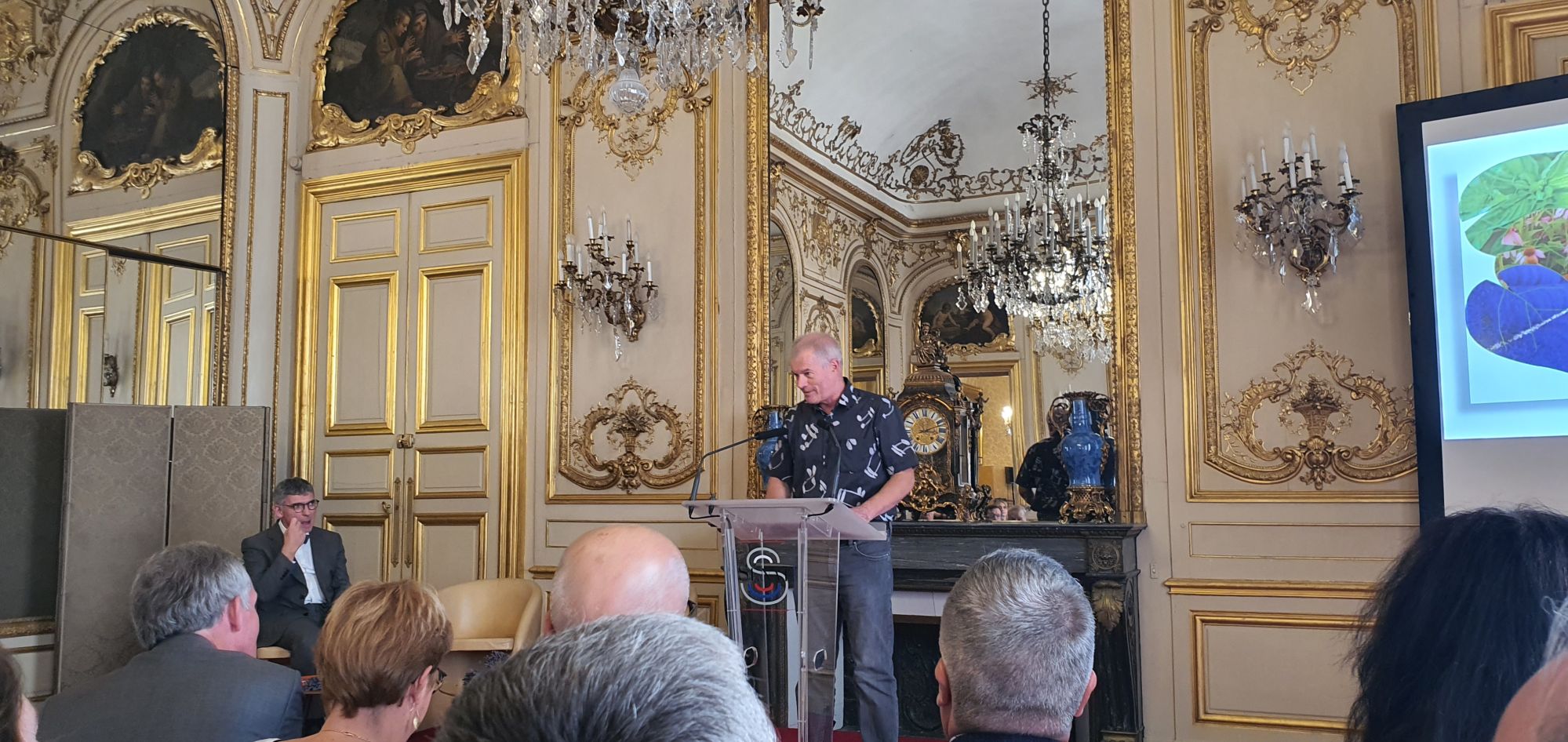 The CIHEF has been working for many months to ensure that the lavender-lavender sector's specific characteristics are taken into account in the definition of REACH and CLP regulations.
A major breakthrough was achieved in the revision of the CLP regulation, which deals with product labeling. The aim of European essential oil producers (Italians, Bulgarians, Spaniards and French in particular) was to highlight the fact that, in terms of its characteristics and activities, an essential oil is not a mixture of its main constituents. A vote by the European Parliament on October 4 finally went in this direction, granting essential oils a derogation on their evaluation method. However, a technical-scientific report will have to confirm this decision in four years' time. Further discussions are needed to clarify certain application procedures, until the final validation of the CLP regulation update, scheduled for the 1st quarter of 2024.
PPAM de France and CIHEF organized an essential oils symposium on October 9, at the invitation of the French Senate. The event provided an overview of the regulatory challenges facing the lavender and lavandin industry. The President of the Senate and the senators present confirmed their total commitment to supporting this sector, which plays an essential role in the life of the regions, particularly in the south-east of France. Thanks to their commitment, an emergency aid package worth 10 million euros has been put together and is currently being allocated to the farms in greatest difficulty. Part of this envelope will also be earmarked for research to help the industry adapt to changes in health and climate.
DIVA Lavender will soon have its own standard. This variety of lavender, which is more resistant to current climates, has been massively adopted by growers. Generating an essential oil with olfactory and analytical characteristics that differ from those of existing lavenders, it is struggling to find a market. Large stocks have been built up.
After several months' work by a group in charge of essential oil standardization at AFNOR (in which ELIXENS France participates), the DIVA lavender standard should be registered in early 2024, making it easier to use in the perfume and cosmetics markets.